To T Or Not To T?
Everytime I am away, I would buy t-shirts back for Clyde. I would say my taste in selecting t-shirts are pretty good.

From Malacca



From Bkk



Bkk again



More from Bkk



I sure go Bkk a lot, huh?



Made in the UK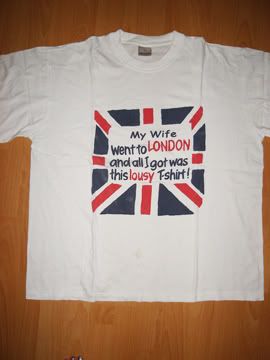 Phantom Of The Opera in London



Taiwan mali



NYC Hard Rock



Believe it or not, everyone wants one!



Uniquely Adidas



Now, compare my taste to Clyde's...

Made in Japan




Horrible, isn't it? Clyde insist it's so unique he will only wear it on 'special' occassions!

Oh my lordings.

* There are a few more but I couldn't find it. Must be in the laundry room. Rest assured, it's all tasteful looking. *ahaks*