Restoran Kar Long, Off Jln Pudu
Clyde surprised me with a bouquet of my favourite white flowers yesterday and took me hunting for the infamous restaurant serving all kinds of bones and ribs in Jalan Pudu, as recommended by a supplier. We couldn't find it but however, we stumbled upon a gem instead. KL is full of surprises, innit?

We walked into this restaurant serving 'mah lat for woh', which is a popular 'tongue-numbing' spicy steamboat meal in Taiwan.

The restaurant was empty and so we ordered our food cautiously.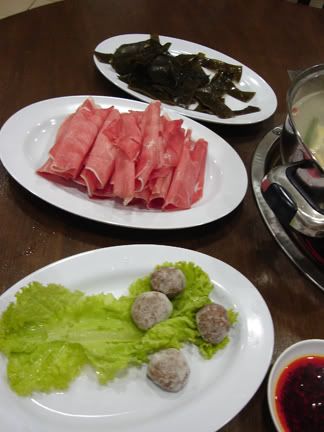 From top to bottom: Seaweed, paper thin mutton slices and mutton meatballs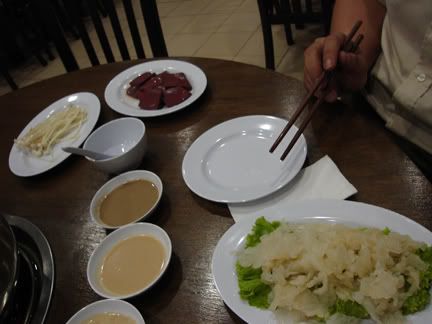 From top left to bottom: Golden mushrooms, congealed pig blood and jelly fish. The dips from top to bottom: Sesame with peanut, peanut and fermented 'fu yue' (sorry, couldn't find the right word for it)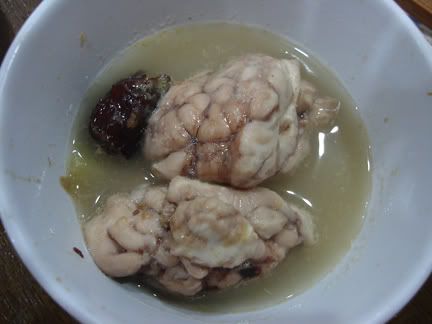 Cooked pig brain

We ordered a combination of clear and spicy soup base for RM18. The 'mah lat' soup was, as expected, tongue numbing with a lot of dried chillies. The clear soup was nice and I had a lot of that. Clyde was driven to tears as he wanted to show his jantaness by cooking his meat in the spicy soup. :P

The total bill came up to RM90+ for 2 person. It was a tad too pricey, but we were stuffed to the brim. I think 4 person would be ideal price wise. Aside from steamboat, they also offer a variety of interesting Taiwanese dishes.

In a nutshell, I would be patronising this place again and hopefully soon. *hint, hint*

Footnote: For noobie readers: Yes, Bonnie & Clyde are lovers of all suspicious-looking and weird-tasting food. But no exotic dishes for us, though.