Fickle Pickle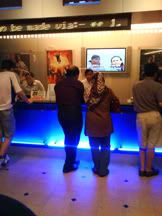 Last Saturday we lined up for 30 mins at Times Square cinema to get to the ticket booth, not because there was a lot of people. Well, the people were there, but that wasn't the reason. People were practically having a tele conference, such as this ambitious couple ahead of us (I would love to upload their pic but photobucket is acting up).

Such poise, such style, such eloquent debate on which movie to watch, what time to watch, who is in the movie, what is the storyline, is there any nudity or swearing in it, who is wearing what and etc. It took them dimwits 15 minutes to walk away with 2 tickets.

When our turn fianlly came, we asked if there was still tickets for Shrek 3 at 430pm. Only front row seats left? No thanks. That was that. I actually timed us and we walked away after 30 seconds.

It wasn't exactly rocket science. D-uh.