The Taj Mahal
Now this, this is what I came here for. The ultimate bait. How can I leave the Indian soil without taking a look at one of the seven wonders of the world, the monument dedicated to love, built over a span of 22 years and accountable for an unrecorded amount of deaths??

The Taj is actually a mausoleum and not a mosque, although it does look like one. Built by Shah Jahan for his second wife Mumtaz Mahal, the white marble dome is much more rounder compared to the regular mosque because the Mugal wanted it to resemble his wife's breast! Aaahhh... bet you didn't know that! Madame Mumtaz died from childbirth, her fourteenth actually. Shah Jahan was so devastated by her death that when he was overthrown by his son Aurangzeb, he spent the remainder of his days gazing at her tomb day and night. Upon his death he was buried beside his beloved wife.

Parts of the tomb were inlaid with emeralds, sapphires, diamonds and other gems, but over the years it has been defaced.



We were recommended to view the Taj during sunset, and we did. However, we only had a back view. Btw, camels look ridiculously girly up close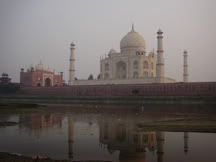 The river behind the Taj looked more like a drain though. What a pity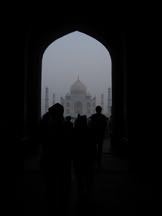 The next morning we left the hotel at 6am to wait for sunrise at the Taj. Almost there!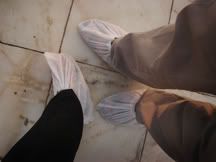 At approximately RM75 per ticket, we were supposed to collect a bottle of mineral water and a pair of foot covers each, which we forgot. A cleaner gave us recycled ones and wanted to ask for money (what else) but unfortunately, a group of tourists emerged so he couldn't muster up his courage to do so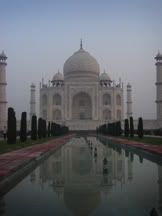 Breathtaking, isn't she? Because of the design, the entire mausoleum looks like she's floating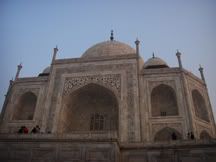 WOW



The excellent timing enabled us to catch the sun rising behind the east gate...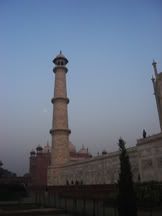 ... and the moon setting behind the west gate at the same time! See the moon? It's right beside the pillar. Amazing!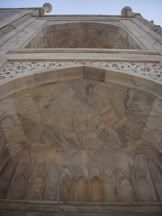 Arch 1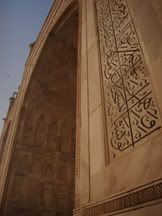 Arch 2



Jawi calligraphy of jasper engraved into the marble, from the Koran



Originally, gemstones are embedded into the marble but not anymore



Details, details, details!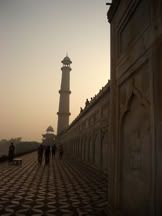 Flooring



I could go on forever posting endless angles of the Taj but nothing does it justice. I guess you just gotta see her for yourself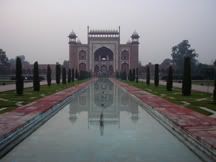 The exit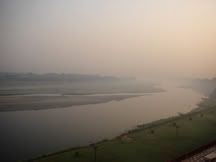 River view, where we stood the evening before