300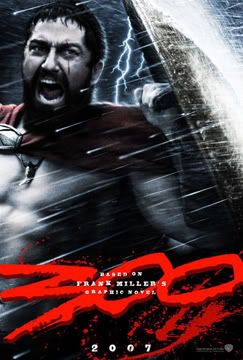 For once, I gotta commend Clyde on his choice of movies. Last Saturday we watched "300" on the big screen. Having seen the trailer on TV, the only thing I know about the movie is that a dirty-looking bearded bloke screams a a lot, the most impactful line being,"TONIGHT, WE DINE IN HELLLLLLLLLL!!!"

"300" is based on a graphic novel about the Battle of Thermopylae. The story is about King Leonidas (screamer Gerard Butler) and his army of 300 beefy, bulky and buff Spartan hunk extremists who protect their kingdom of Sparta from the evil Persian king, Xerxes (Rodrigo Santoro), who also fancies himself a God. For the life of me, I've never seen so many nipples and durians (abs of steel) in one sitting. *burp*

Film director Zack Snyder's adaptation of Frank Miller's graphic novel features a lot of blood spray, decapitated limbs and gruesome monsters, all done in good taste. Every frame in the movie is so well art-directed, choreographed and heavily-posted it puts LOTR to shame. Notice the "power window" effect on every eye ball? For some reason, I took a liking to Xerxes, with his dilated pupils and gay mofo poses.

Shot in 60 days and posted for a year, "300" is really sumtin' else. I hope this movie picks up something it so deserve at the next Oscars.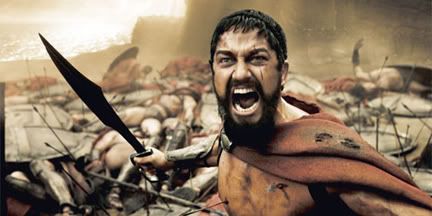 King Leonidas



The Immortals, who didn't turn out to be so immortal



Spartans at war



Gay mojo, King Xerxes