Makan Time Again!
Discovered 2 new makan places last weekend! :P

Khuntai Restaurant
As the name suggests, it's a Thai restaurant tucked away out of view at Jalan Gasing. They serve simple, authentic Thai cuisine without the frills.

You won't find expensive decor with water features on the wall. There is no koi pond or siamese-themed uniformed waitresses. I did not see statutes of wood-carved elephants at the entrance or heavy silver cutlery on the table. Aside from the few framed paper-cutting hung on the wall, everything else is your typical run-of-the-mill kopitiam. Even the air con doesn't work.

So what brings the crowd?

Like I said, simple, authentic Thai cuisine. My couple friend and I ordered a Kerabu Chicken Feet, Seafood Tomyam (which came in a dented mini-steamboat container), Kangkong Belacan, Nameless Chicken (something like inchi kabin but crispier), Fried Calamari and a put-ingridients-in-a-leaf-wrap appetiser (I forgot the name). The Tomyam was especially good and all the dishes were fresh and tasty although I felt the calamari had too much batter.

Me being the pig at work, I forgot to take any pics coz I was busy stuffing my face. The bill came up to be RM60++. It would be better if there were 4 of us instead of 3 but Clyde was busy at work. *hint, hint*

Khunthai Restaurant is situated at 6, Jalan 5/44, Petaling Garden, Off Jalan Gasing, PJ. (T) 03-7781 7523.

La Cocina
We usually patronise Ah Koong Eating House @ Subang Jaya with mom and 3rd auntie, and I always noticed this quaint little Spanish restaurant opposite.

Yesterday, we decided to check it out sans the family. You know old folks and new places lah.

Not really hungry, we ordered 4 types of tapas. Theory: if the little dishes suck, then don't bother with the ala carte.

We had: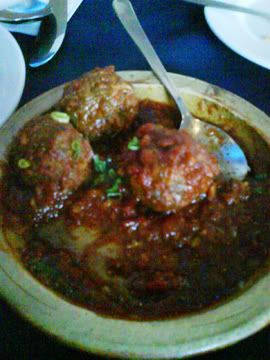 Lamb Meatballs (the ori pungent smell and taste of mutton was retained in gorgeous tomato-based sauce)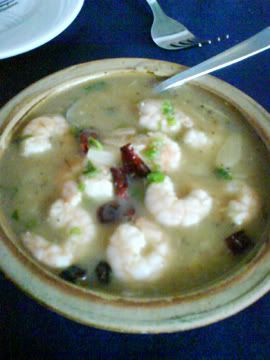 Gambas Pil Pil (shrimps sautéed in heavy garlic sauce)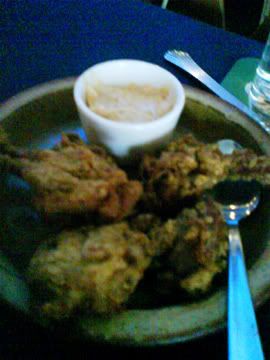 Soft Shell Crab (deep fried served with garlic dip)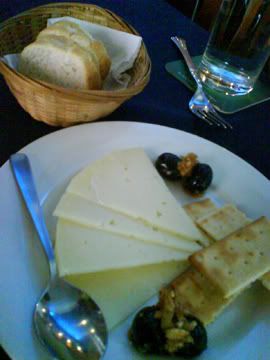 Queso Machego (thin slices of goat's milk cheese served with crackers and olives)

The meal came up to RM56.35. In Clyde's words, it was fa-bu-lous.

La Cocina is located at 38, USJ 9/5 P, Subang Jaya, UEP Subang Jaya or call (T) 03-8023 2395 for reservations.