Bali
I uploaded my Bali pics. Finally! They say a picture speaks a thousand words, so here are my millions:



Main entrance



Guardians leading in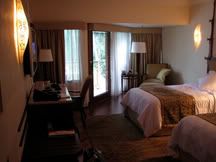 Twin sharing room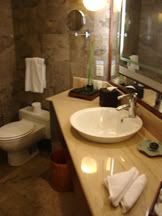 Our lovely bathroom...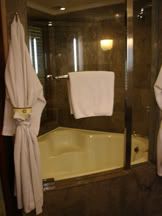 ... comes with a tub!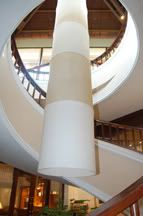 Lobby stairs



Laguna Resort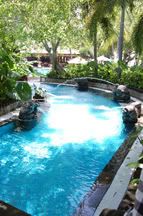 Around the Laguna pool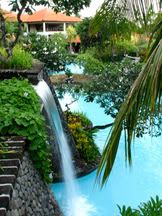 More of Laguna pool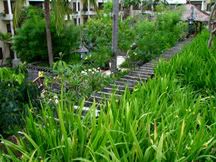 Greenery @ Laguna resort



A little R&R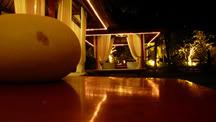 Beachfront lounge chairs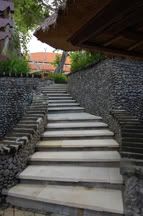 Stairway to heaven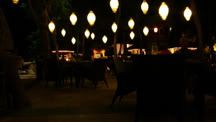 Laguna at night



Afternoon tea @ Mayang Seri, Laguna Resort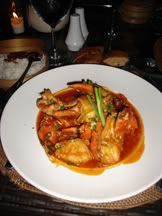 Indonesian Chilli Mud Crab @ Ocean Terrace, Laguna Resort. Our last supper at Bali, so to speak. We spent a good 3 hours tackling our crabs, looking at the sea and talking nonsense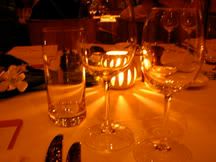 La Chociala. Don't ask me why we had Italian food in Bali, but it was too superb for questions! I chose a sauteed prawn for appetiser, Salmon with crispy skin for main and custard for dessert. Yuuuuum!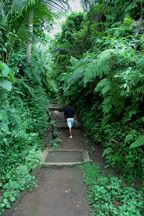 20 mins of winding stairs to get DOWN to the starting point for white water rafting @ Sobek. Ya ya, if you think walking down is peanuts, let's see you try it!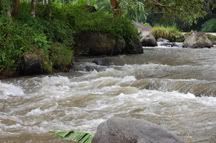 I'd always imagine WWR is more turbulent, but not in the case of Sobek. The 11km ride is exhausting because the level is low so you gotta paddle harder. I've got scars of war to prove it! :P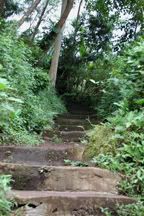 Another 20 mins of winding stairs UP to get to our van. My legs were quivering at the end of the walk. The trick is not to stop, otherwise you'll find it harder to continue. That's a tip, guys. Write it down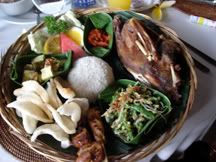 Crispy Duck Set @ Laka Leke, Seminyak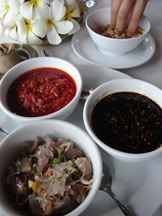 Igenius sauces to accompany the crispy duck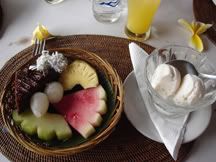 Dessert @ Laka Leke, Seminyak



View of paddy fields at Laka Leke



Dusk



Uhu Club, where the guy's yam seng sesh was commented as "typical asians with no manners" by caucasians pub goers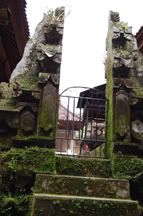 You will find similar structures like this at door entrances. It's a symbolic representative of the doorway between Heaven and Earth

I did not take any good photos after day 2 coz my leg muscles were in pain and I had to wobble around. I even gave up shopping in Legian after 3 hours of wobbling. Wobblers do not make good bargainers or photgraphers. :(

Pictures by Bonnie, Rawrens, Wai & Kin