Horrific Diorific
1st day of my holiday, after driving around town like a madwoman, I was free of annoying errands.

I skipped down to Subang Parade (mentally lah) to get my Chanel Rouge Å Lévres Créme Comfort (that's lipstick to you) in Lune Rousse Russet Moon (and that's dark red colour to you) after lusting for it since November last year. At RM86 a pop, I hesitated until I won some Parkson Vouchers in a lucky draw. And so I purchased the exact colour I tested many moons ago and since Parkson was giving away RM10 vouchers like party favours for every RM80 spent, I bought another slightly cheaper lippy from the Dior counter. I needed an earth tone so when the promoter slid her lip brush over my lips and the colour looked alright, I said yes. She opened a new one, spun the lipstick and let me check the product. She packed it back into the box and promptly placed the merchandise at the cashier, beside my Chanel. Hmm. I like the way it sounds... my Chanel. LOL

Anyway, I have this habit of checking out my merchandise the minute after purchasing. So I popped open my Chanel (hmm) and applied some on my lips. I love the velvety texture and how the vivid rich red looked against my face tone. It's certainly something different. I reached for the Dior and horror of horrors... I recoiled at the sight of the casing. No, this isn't your below-average-looking packaging but every centimetre of it screamed BLING BLING DATIN. Not only is it loud, it's... it's obscenely butt ugly. Don't believe? Here: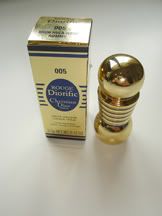 Gold and blue?! How can this be?? It's Dior, for crying' out loud!!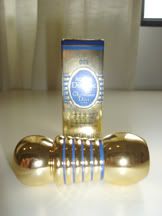 Come closer... know what it looks like now??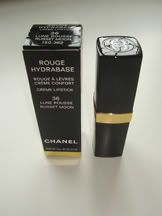 When in doubt, opt for simple classy feel la.... like my Chanel *hiakhiakhiak*

Anyway, I got 2 x RM10 vouchers so I picked up a shirt for Clyde. As I was queing up to pay, I mentally calculated the discounted price minus my vouchers. The uncle infront of me was eyeing me for quite sometime. For some reason I didn't say, "See what see?!" After he paid, he turned around and asked, "You want?"

"Want what?" I replied.

He shoved his receipts at me and I said,"Are you sure? You can get vouchers."

He shrugged,"Take," and left.

I held on to Clyde's shirt and ran to the customer service counter. Uncle spent RM800+ and I got 5 x RM10 vouchers for it! Sometimes it pays to be nice. Kekekeke... This shopping trip was so meant to be! So thank you, nice uncle in red-stripped golf tee!

Happy new year all!